Advances in Precision Medicine and timeless Eastern practices empower women to
CONCEIVE NATURALLY
The Positive Pregnancy Project is a 10-week comprehensive program that lovingly guides you through a clear blueprint for natural conception and a healthy, thriving pregnancy. 
Get started today.
REGISTER NOW
Before I tell you about The Positive Pregnancy Project, let's talk about who this is for...
Let's talk about your FERTILITY goals...
...because I believe you are strong, healthy and able to get pregnant. There's something you will read here that will help you start your family. 
Many hopeful women miss their chances at motherhood and end up feeling defeated, disappointed and alone.
 Maybe this is you right now...believe me, I get you. .
No matter if you are...
☑️ You have just started working on getting pregnant with no luck but you know you will succeed with the right guide
☑️ You are tracking your cycle, using cycle tracking apps, and ovulation strips month after month but you have yet to get a positive test
☑️ You have been told you are 'infertile' and have been trying for so long you are considering an invasive procedure
☑️ You have been told you should begin IVF in order to have a baby after months of disappointment and unanswered questions, but you'd prefer a natural approach
☑️ You are doing IVF and you want to improve your chances of being successful sooner rather than later to avoid more disappointment
☑️ You are committed to growing your family and willing to do whatever it takes to have a safe and healthy pregnancy
You're in the right place.
I'm going to tell you exactly how THE POSITIVE PREGNANCY PROJECT will give you the best tools, the caring community, and the unmatched support you need on this journey to HAVE YOUR BABY.
But above all else...
THE POSITIVE PREGNANCY PROJECT
will give you the confidence to track effectively, be intentional about sex, finally conceive, and enjoy a strong, safe, healthy pregnancy. 
REGISTER NOW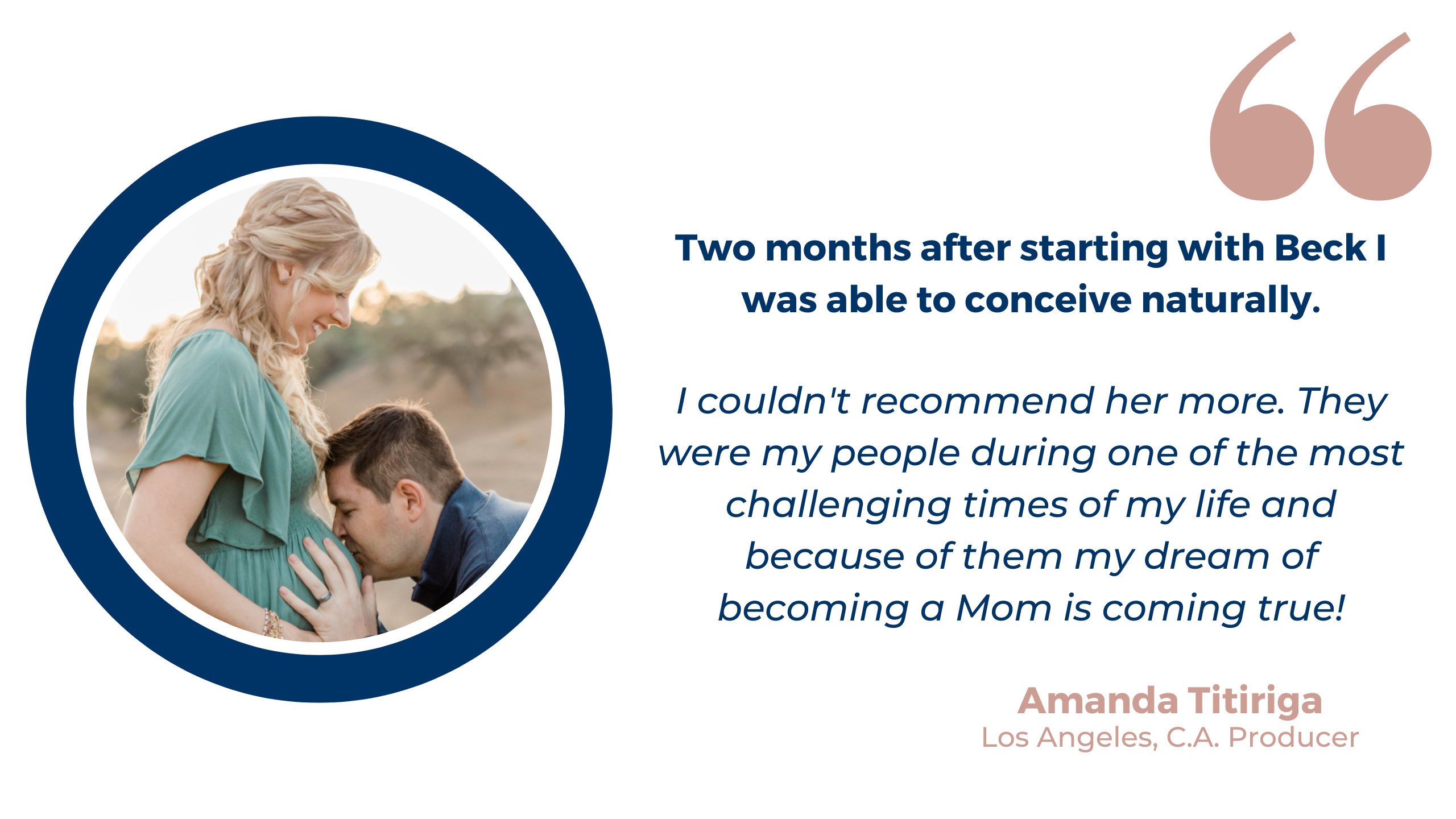 For me, being a FERTILITY SPECIALIST isn't just about MAKING A BABY, it's about making an impact on the world, and helping you create your family and your legacy. 
That's why I'm sharing the POSITIVE PREGNANCY PROJECT™ I've developed in the aCHIeve FERTILITY COURSES with as many people as I can.
When I first started as a practitioner in 2015, I knew there had to be a better way to help HOPEFUL MOMS get the results they wanted.
Since then, I've successfully worked with COUNTLESS  WOMEN successfully and want to share these secrets with you on your journey to ENJOY THEIR NEW FAMILIES. 
The POSITIVE PREGNANCY PROJECT has been battle tested over many years by people just like you and is proven to work for people struggling with TRYING TO CONCEIVE.
What moves me most about this work is how courageous women are as they implement the crucial changes required to overcome their fertility challenges. The work is well worth the effort, of course - but it is not easy. I am constantly amazed and inspired by the resiliency we women can exhibit to have the families we so desire.
WHAT RESULTS CLIENTS ARE SEEING...
Camille P
Beck and her guidance have been my lifeline.  I feel instantly supported every time I speak with her.  So glad I found her!
Alana S
My husband and I had been trying ourselves without any luck and didn't know what to do, but we knew we needed some guidance and found Beck. She guided us through to better habits and changes we needed to make to have our first baby, and guess what?  We just went through the program a second time and now have baby number 2!
Amanda P
When I discovered Beck, I immediately knew I was in the right place.  I had received some diagnoses and was told I would have issues conceiving and may not get pregnant naturally. Within 4 months of learning with Beck, I was pregnant!
So If You're Ready To Transform Your FERTILITY, You're Invited To Join Us Inside:
 THE POSITIVE PREGNANCY PROJECT
PREP
Success Setup
Move through a few fertility assessments to provide a starting point for yourself. This information will support you and your partner in putting your BEST genetic material forward for your baby. 
☑️ Hormone fertility basics learn the foundational hormones needed for a healthy pregnancy. 
☑️ Understand why your conception have yet to be successful by stepping into the Easter paradigm that has worked for centuries.
☑️ Dive deeper into cycle patterns and learn what to refine and optimize them.
MODULE 1
Track Before You Try
Unfortunately, there is more misleading than accurate information circulating on the topic of timing for conception. Well-meaning practitioners are falling short in clarifying all the factors that wise couples need to track when they are serious about growing their family. 

☑️ Effectively Accurate Fertile Window Tracking: Stop guessing and tracking your ovulation with outdated tools and create a better dashboard for you and your partner. 
☑️ Know The Yin And Yang Of Your Cycle: Traditional Chinese Medicine works by balancing yin and yang.  When the Yin and Yang of your cycle are in balance, you are able to enjoy a predictable, healthy ovulation. 
MODULE 2
A Fertile Feast & Mindful Movement To Put Your Best Genetics Forward
We discuss meal planning, cooking your own food, what to do if you can't do either, and how food is really your fertility blueprint 
☑️ Foods, Seasonality, Locality: Fortify your hormones and amplify the energetics of your cycle with the crucial food selections covered in this session
☑️ Phasing Your Food: Don't struggle with meal plans and recipes! Lean in to these done-for-you meal guides and mouthwatering recipes. 
☑️ Sync Your Activity With The Seasons Of Your Cycle: When you're committed to getting pregnant, it is crucial to align activity levels with the different phases of your cycle. Exercise routine included. 
MODULE 3
Prepare Your Palace
Cultivate a safe and harmonious space for your baby. Let's set up home for your baby and create an energetic opening for his or her arrival. 
☑️ Make Way for Your Baby Learn the best way to create an energetically balanced space for your new addition 
☑️ Remove Fertility Blockers: Make sure your home is free of toxins and harmful products the reduces your chances of conception while also creating a safer environment for so you can minimize your new baby
☑️ Master The Process Opening & Closing Your Day as a way to call in your child. This peaceful process brings positive clarity to your family life.
MODULE 4
Horary and Your Hormones

Lean into the power of your body's natural rhthym and creae a cadence of activities that have the body relax as it recognizes what's cimming throughout the day. 
☑️ The Timing Of Your Life: Traditional Eastern Medicine uses the  Horary Clock to help you spend more time in the rest and digest state instead of the fight of flight state. This is essential while you are trying to concieve and carry. 
☑️ Circadian Rhythm & Your Cycle: The principles of the Horary Clock combined with the pattens of your wake-sleep cycle give you control over you energy levels, hormones and overall well-being.
MODULE 5
Sperm Specifics
Before you get a baby on board, get your partner on board. There are two essential components to address; the health of his sperm and his mental and emotional state as he heads toward fatherhood.  
☑️ Motivational Interviewing: Clear any and all emotional and intellectual hurdles that can be unconsciously blocking conception of your baby
☑️ Conscious Coupling: With the emotional and mental blocks cleared, now you're ready to co-create life on a physical and energetic level.
☑️ Male Factor: Empower your partner to put his best genetic material into this conception. You'll learn how to address sperm quality, quantity, motility, and shape.  
MODULE 6
Data Avoids Drama

Identify your clinical pattern and discover the aCHIeve fertility protocols that will pave the road to strong conception and a healthy pregnancy. 
☑️ Examine Your Clinical Data: By this point in the program, your Functional hormone lab results will be in and I'll teach you how to accurately interpret them and apply that data to your conception efforts in a way that coordinates with your precise fertile window.
☑️ Fertility Types: Eat and move for your fertility type to improve your fertility even more.
☑️ aCHIeve Fertility™ Protocols: With your lab results in and your fertility type clear, you will customize your conception strategy using the protocl that is exactly right for your unique body. 
MODULE 7
Doing it Literally
Sex is hot and fun! At least it should be. Find ways to save it from going stale in the bedroom while you are getting busy with baby making. 
☑️ Make It Interesting: Don't take the fun out of sex by just getting down to business,connect with intention, then go for the good stuff!
☑️ Overcome Painful Sex: Cultivate the skills to open the conversation about pain during sex and master exercises and sure fire processes that shift the position of your uterusprior to gettin' it on! Knowing the physiology of why pain can occur during sex is 90% of the battle. 
☑️ Realistic Tips From A Real World Sex Coach: There's nothing that's off the table for discussion; physical, emotional, spiritual - clear any and all hurdles to healthy, connected sex and successful conception. 
MODULE 8
Head Games

Getting your head in the game so that you are in the right mindset to be a successful parent.
☑️ Manifesting Mamma: Lean into proven neuroscience processes that are well-known for improving your chances of getting pregnant.
☑️ Progressive Muscle Relaxation: Use this proven calming technique to regulate your nervous system to get out of the fight or flight state and into the rest and digest state prior to bedtime.   
☑️ Encourage Your Mind: Guided breathwork and mental imagery help you let go of fertility anxiety and rewire your brain into a state that already recognizes you as a mom. 
MODULE 9
The Dream Team
Find the right crew to support your healthy conception and safe delivery. 
☑️ Getting The Band Together: A fully organized spreadsheet to record responses and compare medical offices based on clear criteria.
☑️ Birth & Delivery Readiness Checklist: A clear timeline and complete checklist so you're ready for whatever happens from the moment you conceive through to the approach of delivery. 
10 weeks of encouragement, support, when you need it most!
You're probably feeling a little intimidated about tackling this huge overwhelming project to start making your new addition. That makes total sense! That's why we provide you with the ultimate fertility blueprint.
Baby making can be intimidating. It looks so easy for your friends and you don't know where to start.  
That is why we provide you with all the essentials to help you start your family.
REGISTER NOW
Plus!
You'll Get These  

3 Bonuses

To Help You Have Unstoppable Momentum  so that you can get started on getting pregnant 
Bonus 01
Fertility Optimization For The Dad-To-Be
(A $899 Value)
There's so much that can be done to ramp up the quality and quantity of the male partner's contribution to conception. If men knew that they could affect whether they provide scrawny sperm or super sperm, most would do whatever it takes to ensure their child gets the best of their genetic material passed down! 
The Super Sperm Set Up guides you through easy and effective things you can do to optimize chances of conception and give your baby a leg up with optimal genetic material. 
Do NOT make the mistake of letting the female partner do all the heavy lifting around increasing the chances of a successful conception and a strong, viable embryo that avoids the devastation of a miscarriage. 
Bonus 02
Improve Your Thyroid Health And Boost Your Fertility
(A $500 Value)
Did you know Thyroid health  can potentially impact your fertility?  Join hormone specialist Megan Bliss as she teaches you ways to optimize your thyroid function. 
Bonus 03
Save 15% On Carefully Curated Fertility Supplements
(A $899 Value)
Sure, those prenatal gummies are delicious? But are they the most effective for you and your body? Probably not. 
You save 15% on my Fullscript pharmacy as a member of The Positive Pregnancy Project. You can not only use this massive saving on the supplements in the aCHIeve Fertility Protocols, but also on any of  the highest quality supplements available. This can save you and your loved ones thousands over a year!
...but you can join The Positive Pregnancy Project today for just $2,495!
☑️ The absolute best way to get GET PREGNANT without THE STRUGGLE 
☑️ Action Guides, Meal Plans, and Workbooks to guide you each and every step of the way.
☑️Exclusive 1:1 onboarding call: Solidify your checkpoints and create your victory milestones on this personal onboarding call. (Value $500)
☑️ An invitation to the community: Lean into the private group for daily check ins and support.. (Value $5000)
☑️ The Positive Pregnancy Project step-by-step trainings: Benefit statement about the thing they get and how that will impact their desired end result. (Value $8500)
☑️ Weekly 1:1 coaching calls: once a week coaching calls to keep you on excited and tracking your progress. (Value $5000)
☑️ Bonus #1 The Private Member's Only Community so you can voice any questions or get some encouragement from the aCHIeve Fertility Course community. (Value $599)
☑️ Bonus #2 Carefully curated supplement support where you can choose from the highest quality supplement brands. (Value $899)
☑️ Bonus #3 Next level ovulation testing so you can track your ovulation in real time. (Value $395)
 100% Money Back Guarantee For 30 Days
The Positive Pregnancy Project is the most comprehensive, step-by-step course for women  who are committed to GET PREGNANT.

Our team is highly skilled and motivated to help you live the life of your dreams and get you STARTED ON GETTING PREGNANT when you join this special community. 
By the end of the 30 days you will have access to module 1 through 4 of the course and will have ample time to experience our world class training and support before making a final committment. 
If you don't feel 100% confident by the progress you're making simply reach out, show us you've put in the work to working our program and we will refund your investment . It's that simple. 
Frequently Asked Questions
Why is this different from other fertility courses?
How will you create a program that is specific for me?
How am I going to fit this coursework into my schedule?
The Next Step Is Up To You 
I can't wait to see the transformation in your FERTILITY and live a life without A BABY so you can finally start YOUR FAMILY once and for all.
JOIN NOW
Copyright © 2023 Dr. Beck Hoehn™  |  All Rights Reserved  |  Privacy Policy  |  Terms Of Use  |  Disclaimer  |  Cookie Policy  |  About  | Login
Address: 4315 1/2 Riverside Dr. Burbank, C.A. 91505  |  Phone: (213) 674-9445 |  Email:[email protected]

This site is not a part of the Facebook™ website or Facebook™ Inc. Additionally, this site is NOT endorsed by Facebook™ in any way. FACEBOOK™ is a trademark of FACEBOOK™, Inc.
*These statements have not been evaluated by the Food and Drug Administration. This product is not intended to diagnose, treat, cure or prevent any disease.